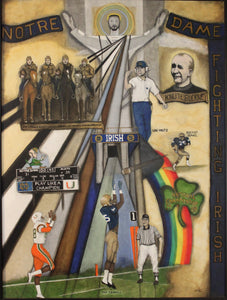 Don White Art
Greatest Moment in Notre Dame Football
Regular price
$2,495.00
$0.00
Oil Pinting on canvas 30" x 40"  ships framed.
Notre Dame Football's Greatest Moment
With Touchdown Jesus looking on in the background, Safety Pat Terrell was
 the hero of the greatest college football ever played. He jumped up and batted
down the two point pass attempt with seconds left.  He played like a champion
that day as Notre Dame became the 1988 National College Football Champions
over the Miami Hurricanes 31-30. Notice the cloud of witness: Lou Holts the
Coach, the Four Horseman, Knute Rockne, The Rocket, and of course the Leprechaun
for "Good Luck"!
---